Welcome to Our Community
Registering Now takes less than 60 seconds and gives you access to additional features. Register now to dismiss this and other notices.
Sign Up
View: https://www.youtube.com/watch?v=r-_KG2xFpzY
Meanwhile, Barnett – a longtime veteran of fighting on the Japanese scene – said the results were "pretty good" given current conditions and stressed the UFC will only be able to measure their success if they continue to invest in the market.
"Honestly, the only way you know how successful you were is to continue to have another event," Barnett told MMAjunkie. "If people really enjoyed what they saw tonight, which I think a lot did, you'll see the results in another fight card. That's the only way to really judges that sort of success."
The all-time list of announced attendance figures (no figures were announced at 2012's "UFC 144: Edgar vs. Henderson" event, but attendance was estimated at 21,000) for the UFC's visits to Saitama Super Arena now includes:
14,682 – "UFC on FUEL TV 8: Silva vs. Stann," March 2013
12,395 – "UFC Fight Night 52: Hunt vs. Nelson," September 2014
10,137 – "UFC Fight Night 75: Barnett vs. Hunt," September 2015
LINK:
UFC Fight Night 75 draws lowest attendance for UFC in Saitama, company bullish on Japan | MMAjunkie
----------------------------------------------------------------------------------------------------------------------------------------------------------
Go figure thats because it sucked!
Josh Barnett def. Roy Nelson, unanimous decision (48-47, 48-47, 50-45)
Uriah Hall def. Gegard Mousasi, TKO (Round 2, 0:25)
Kyoji Horiguchi def. Chico Camus, unanimous decision (30-27, 30-27, 30-27)
Takeya Mizugaki def. George Roop, unanimous decision (29-28, 29-28, 29-28)
Diego Brandao def. Katsunori Kikuno, TKO (Round 1, 0:28)
Mizuto Hirota vs. Teruto Ishihara, split draw (29-28, 28-29, 29-29)
The UFC argued to have the antitrust lawsuit filed by current and former fighters thrown out of Las Vegas federal court today. Paul Gift was in the courtroom and has all the details.
For a quick summary of the respective positions of the fighters and the UFC, see yesterday's piece. Today is about what actually went down in the courtroom.
Court rules prohibited live updates, but I was allowed to take notes of the proceedings.
3:59pm - The attorney army just grew. I feel like if I fall down and hurt my arm, I'll be well represented.
4:07pm - UFC's up first. They start with two issues dispositive of the whole complaint: Has their been foreclosure of a market and has a relevant market been defined. Boom: UFC already mentions The Carlos Newton.
4:09pm - Judge immediately challenges UFC attorney right off the bat. Judge asks why plaintiff allegations aren't specific for "a motion to dismiss stage." Attorney answers and judge interrupts again. He's really challenging UFC attorney hard.
4:13pm - UFC: "They won't tell us how long the contracts are...Plaintiffs can come in with plainly insufficient contracts and make that claim...if you just allege an exclusive contract, that's not an antitrust claim...exclusive contracts are procompetitive...the issue is how long are you locking them up and how many are they locking up."
4:15pm - Judge: "Allegedly your client signs contracts to more fighters than they have bouts for."
4:16pm - UFC focuses on all the things plaintiffs are "not telling you" about contract details.
4:18pm - They're going over prior cases now. Focus is on amount of foreclosure and length of exclusive contracts. Judge notes they're not binding on this court. Asks for 9th circuit case. UFC can't produce one. Judge keeps asking why he need to require such specificity "at this stage."
4:23pm - Plaintiffs are up. Got walked out by security for having an iPad open and missed three minutes, even though I got it approved in advance. Argh!
4:25pm - Plaintiffs are arguing long-term nature of contracts...in perpetuity. "Here the contracts we allege in perpetuity are essentially as long as the UFC wants those fighters.
4:26pm - Plaintiffs are now comparing this case to an old championship boxing case in front of the Supreme Court.
4:27pm - UFC is up to respond. Judge asks why plaintiff allegations aren't enough. He's required to draw factual inferences and accept allegations in complaint at this point.
4:28pm - UFC says plaintiffs don't quote any contractual language that says contracts are in perpetuity.
4:30pm - Judge says that if the UFC has the right to match a contract after one expires, "That's not a 2 or 3 year contract, that's forever." Whoa! He could be probing, or that could be a huge statement right there showing his mindset.
4:32pm - Judge: "So your argument is that they have to quote actual contract terms in the complaint if they're going to use contract claims in the complaint."
4:33pm - Are they summarizing contract terms or stating a legal conclusion? That seems to be the issue most relevant to the judge.
4:34pm - Now we're moving on to the definition of the relevant market for "Elite MMA Fighters." Judge asks why the market should not be accomplished vs. non-accomplished fighters.
4:35pm - UFC is focusing on circular logic in plaintiffs relevant market. If Microsoft has the best coders in the world, is the relevant market Microsoft Coders only?
4:38pm - Judge asks what distinguishes this market definition from championship boxing case. What would complaint need to say to satisfy pleading requirement? UFC: Something with a metric that can distinguish between who fights for Bellator...got interrupted. Judge: It sounds like you're saying they'd have to say something like certification, number of fights, something that UFC could test. UFC says that's basically it.
4:41pm - Judge: "What you're saying is you can't just say they're good fighters." UFC agrees.
4:42pm - Plaintiffs are up to respond. What are elite fighters? They focus on products or services that are reasonably interchangeable with each other. Plaintiffs cite NCAA case about quality distinction for relevant markets. Plaintiffs now cite Ed O'Bannon case that UFC attorney was successful on. Interesting. Judge says plaintiffs don't need to spend time on circular nature of relevant market. He's not persuaded by it so we're not wasting time on it.
4:47pm - Plaintiffs say it's not necessary to show monopoly or monopsony power because the UFC earns 90% of MMA revenue!
4:48pm - UFC comes up and focuses on how all these other examples may be good quality but are not one company, NFL, NCAA, and championship boxing.
4:49pm - UFC moving on to segments of case which they say are "absurd," locking up venues, sponsor, and TV networks with exclusive contracts. Discovery is expensive and these claims are "so wildly implausible."
4:50pm - UFC moves on UFC restraints when fighters are fighting, but no restraints when they're not fighting. "Doing whatever they want to do with their own rights" when they "don't have a UFC logo on." UFC argues this is not antitrust. There is no anti-competitive injury.
4:54pm - Judge asks UFC to remind him of which part we're talking about, monopoly or monopsony. Writer's note: It can get confusing. Judge: "I'm learning as I go."
4:55pm - UFC: Plaintiffs own complaint lists five competitors to the UFC. "One of the reasons you know the don't have contracts in perpetuity is because the plaintiffs have fought" in the other promotions.
4:56pm - Judge: "I think the issue really is whether or not the combined effect of exclusive contracts has an impact." The Carlos Newton! Asks at what point the collective effect matters.
4:57pm - UFC is arguing exclusive contracts with beer companies and others are pro-competitive. Should not mix allegedly legal and illegal things.
4:58pm - UFC says only piece which is potentially difficult is fighter contracts. Other areas are clearly pro-competitive. Should not lump them together. Antitrust law should enable these, not dissuade these. Judge seems to be struggling at times with antitrust lingo. Have to wonder if it's his first antitrust case. That's probably not a good sign for the UFC.
5:01pm - Plaintiffs come up and argue that we aren't at the stage where pro-competitive issues matter. Judge asks why not. Plaintiffs: "The way the UFC operates is not pro-competitive." They quote Dana fighting words!
5:04pm - Plaintiffs argue fighters get less revenue percent in UFC than any other major sport. "Why is that? Because they're a monopolist."
5:06pm - Plaintiffs now discuss exclusive deals with sponsors and venues. Argue judge is correct and Carlos Newton holds. Imagine Miami Heat had exclusive with all LeBron's sponsors and now he wants to go to the Cavs and loses all sponsors. He lost me a bit here.
5:08pm - Judge remembers the pictures of the complaint. Plaintiffs argue venue and sponsor exclusives contribute to the foreclosure, not cause the whole thing. After purchase of Strikeforce, there are no other major MMA promotions. Only minor leagues.
5:11pm - UFC is up for final words. "They allege we have an exclusive deal with Bud Light, which leave a lot of other beer companies...if we have one exclusive deal with one apparel company, that's pro-competitive." They (rivals) can go to the others. Same with the venues. UFC has listed all other venues plaintiff fighters have been in.
5:14pm - Wild west is mentioned. Judge: "Some of that is in the complaint. There are some very colorful statements."
5:15pm - UFC: "I'm sure if anyone wants to look at our internal documents someday, there's going to be colorful rhetoric. That's the nature of the business."
5:16pm - Judge asks what weight he should give Dana White's colorful, brash statements now at the motion to dismiss stage. Should he consider DW's eliminating competitor statements (e.g., RIP) for their implications for competition, absent his colorful language? Should he give weight to statements "that smack of monopolistic, monopsonistic conduct?" UFC attorney focus is those statements were about one competitor, not competition as a whole. Those are pro-competitive statements "that competitors can and should say."
5:18pm - Plaintiffs quoting all of Dana White's statements now. Relating it to a political gaffe, where a politician "accidentally tells the truth." Judge says yeah but there's no context at the moment. "From my perspective, I just don't now that I can really consider them anything other than an officer bragging about the company."
5:21pm - Plaintiffs: "Hopefully from our perspective we get to take the depositions of Mr. White and consider them in their full context."
5:23pm - Whoa! In a shocker, the judge says he's going to rule from the bench in 10 minutes. Brett and I think there's no way the UFC's winning today. My guess is 2/3 odds of a partial denial and partial granting of the motion to dismiss (with leave to refile) and 1/3 odds of a full denial.
5:39pm - And we're back. And the full motion to dismiss is denied. The entire case progresses.
UFC loses motion to dismiss antitrust lawsuit - Bloody Elbow
Between 1997 and 2007, Pride Fighting Championships was an undeniable force in mixed martial arts. The promotion's inception came about as an excuse to match Gracie family champion Rickson Gracie and famous Japanese pro-wrestler Nobuhiko Takada. Eventually, the promotion became on of the largest sporting entities in Japan and an international thorn in the UFC's backside until 2006.
In 2015, Pride FC is no more. More than eight years have passed since the promotion's last event. Nevertheless, former boss Nobuyuki Sakakibara made an emphatic return to the MMA community when it was announced that he had signed the legendary Fedor Emelianenko to headline the inaugural show of his new (unnamed) Japanese promotion.
The decision came as a surprise to many, as few were aware that Sakakibara was working on a new promotion in Japan, and most hoped that the Russian heavyweight would finally sign with the UFC. However, according to Sakakibara, Fedor was a necessary variable in the overall equation.
"I am extremely pleased to be able to introduce a new platform for mixed martial arts in Japan," Sakakibara told rsport.ru. "And it is a great honor for me that Fedor chose our organization for his return. I think we will be able to create a great show."
Sakakibara refused to offer the name of his new promotion, or even hint at the opponent that Fedor would face upon his return.
"The name of the opponent is not currently confirmed, but Fedor said he was willing to go against anyone. Now we have a lot of fighters from around the world who would like to challenge Fedor. But we would like to select a fighter who will mean something for the future of mixed martial arts."
LINK:
Former Pride FC boss: Fedor's opponent will mean something for future of MMA - Bloody Elbow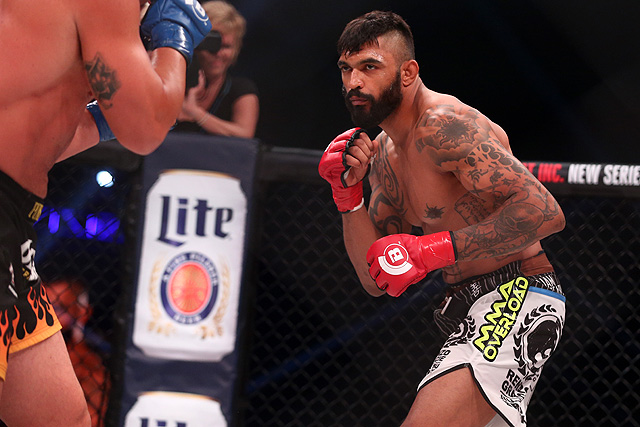 The full Bellator 142 payouts (MMA only) included:
Liam McGeary: $50,000 (no win bonus)
def. Tito Ortiz: $300,000
Phil Davis: $130,000 (includes $65,000 win bonus)
def. Francis Carmont: $17,000
Josh Thomson: $10,000 (no win bonus)
def. Mike Bronzoulis: $10,000
Phil Davis: See above
def. Emanuel Newton: $70,000
Muhammed Lawal: $15,000 (no win bonus)
def. Linton Vassell: $30,000
Gabriel Carrasco: $4,000 (includes $2,000 win bonus)
def. Joe Neal: $2,000

Adam Piccolotti: $4,000 (includes $2,000 win bonus)
def. Salvador Becerra: $1,750

Thomas Diagne: $3,000 (no win bonus since fight ended in draw)
vs. Mike Malott: $2,000 (no win bonus since fight ended in draw)
Francis Carmont: See above
def. Anthony Ruiz: $5,000
LINK:
Bellator 142 salaries: Tito Ortiz ($300K), Phil Davis ($130K) earn top disclosed payouts | MMAjunkie
Bellator's first installment of what was hyped to be its signature event of the year, "Dynamite," may have set the company's records for live attendance and live gate, but didn't fare as well in the TV ratings.
The show, highlighted by a Tito Ortiz challenge to light heavyweight champion Liam McGeary and a four-man light heavyweight tournament, averaged 800,000 viewers between 9 p.m. as 12:42 a.m. The number was actually below the average of 892,000 viewers for Scott Coker's first year at the helm of the company.
The live event at the SAP Center in San Jose drew an estimated 11,000 fans, the most for an event in Bellator's six-and-a-half year history.
The company had hoped for success similar to the June 19 show, headlined by Ken Shamrock vs. Kimbo Slice, which averaged 1.58 million viewers and peaked at 2.1 million for the main event.
(Cont')
When looking at the ratings pattern for the show, the key was the lack of growth throughout the show. The starting point was solid for a Bellator major show, which would then usually grow as bigger names appear later in the show. But that didn't happen here.
Another key was college football competition, most notably an Alabama vs. Mississippi game that did 7.6 million viewers on ESPN.
The verdict was that people were far more excited about a grudge match with all kinds of silly pro wrestling histrionics, against Bonnar, a well-known name, than a championship fight with McGeary, who is far lesser known.
The lead in and first few minutes of McGeary vs. Ortiz in the 12:15 to 12:30 a.m. time slot did 711,000 viewers, while the last few minute and post-match, from 12:30 a.m. to 12:42 a.m., did 807,000 viewers. While the late start of the main event likely hurt, UFC on Saturday night almost always has the main event going into the cage at about 12:30 a.m. There are UFC shows where the main event isn't the high viewership point of the show, due to the late start. But often it still is.
What that indicates is that at this point the public doesn't see the Bellator light heavyweight title as something that special, even though Ortiz was promoting hard the concept of being world champion once again.
The show peaked early with the King Mo Lawal vs. Linton Vassell first round light heavyweight tournament fight doing 930,000 viewers. The Davis vs. Emanuel Newtonfight that followed did 860,000 viewers.
LINK to full story:
Bellator does 800,000 viewers for first installment of Dynamite - MMA Fighting